TAPESTRY BOSTON HEIGHTS RENTAL HOMES
Tapestry Boston Heights is the proposed adaptive reuse of a closed hotel to multifamily housing.
The property will attract workforce housing and senior residents seeking more affordable rental housing. All rentals are private pay without subsidy. The focus of workforce housing is providing attractive and affordable homes for middle-income service workers, such as police officers, teachers and nurses, in close proximity to their jobs. Senior residents on a fixed income are seeking more affordable housing nationally. The renovated first floor apartment homes are ideal for senior residents seeking single level living. Tapestry, as a senior housing owner and manager will coordinate local services, transportation and home healthcare.
Rendering from Tapestry Adaptive Reuse Rental Projects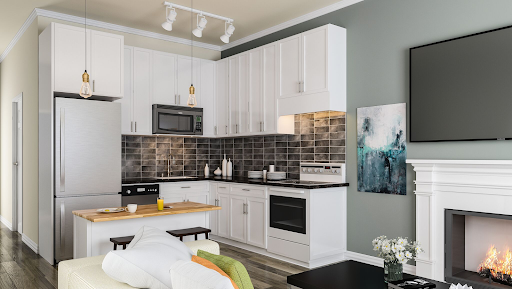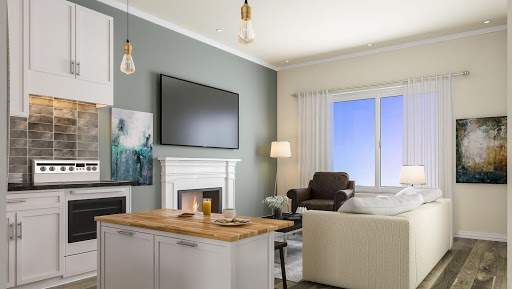 National Parking Analysis
"Most metro areas across the U.S. experienced a decrease in ratios from 2006 to 2016. After rising consistently through the decades, the 2010s witnessed a decrease in parking ratios in newly constructed buildings across the United States. Average parking ratios for apartment properties with 50 or more units peaked at 1.62 in the 2000s before declining to 1.46 in the current decade, its lowest rate since the 1960s. This major shift coincides with the ongoing apartment boom of the current business cycle and reflects the increasing urban nature of residential development versus the overwhelming suburban character of residential developments in decades past.
More recent changes reveal that the parking ratio average for garden apartments has declined slightly from 1.68 in 2006 to 1.62 in 2016. Similarly, the ratio for mid-rise buildings also declined from 1.35 to 1.27 during the same period. However, the ratio for high-rise buildings has risen slightly from 0.87 to 0.93, illustrating the fact that while changes are clearly underway, the societal car-centric nature remains strong and major shifts in attitude might take decades to play out in the data.
When analyzed by metro area, parking ratios were typically higher in the Sunbelt and lower for markets in the Northeast, upper Midwest, and Pacific Northwest. Developments in large Sunbelt metro areas originally required apartments to have more parking because of fewer public transportation options compared to their northern and western counterparts.
+0.14 Largest Increase in Parking Ratio – Nashville, TN
-0.84 Largest Decrease in Parking Ratio – Miami, FL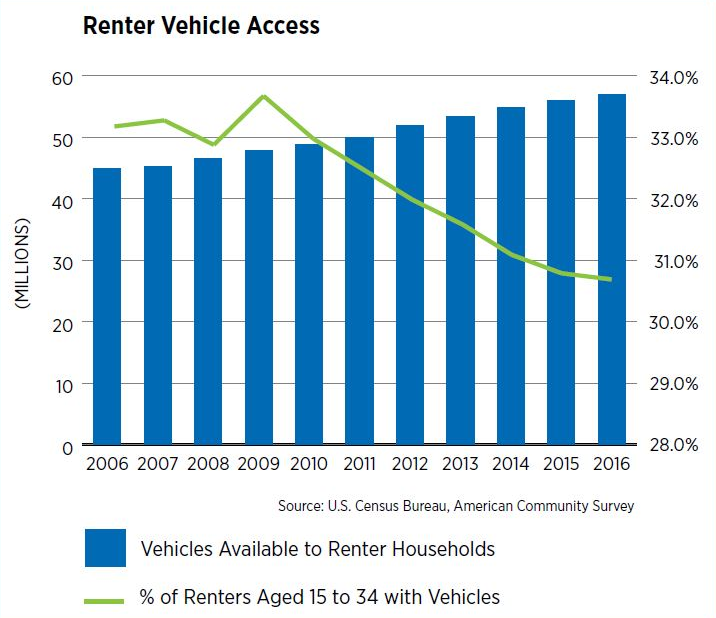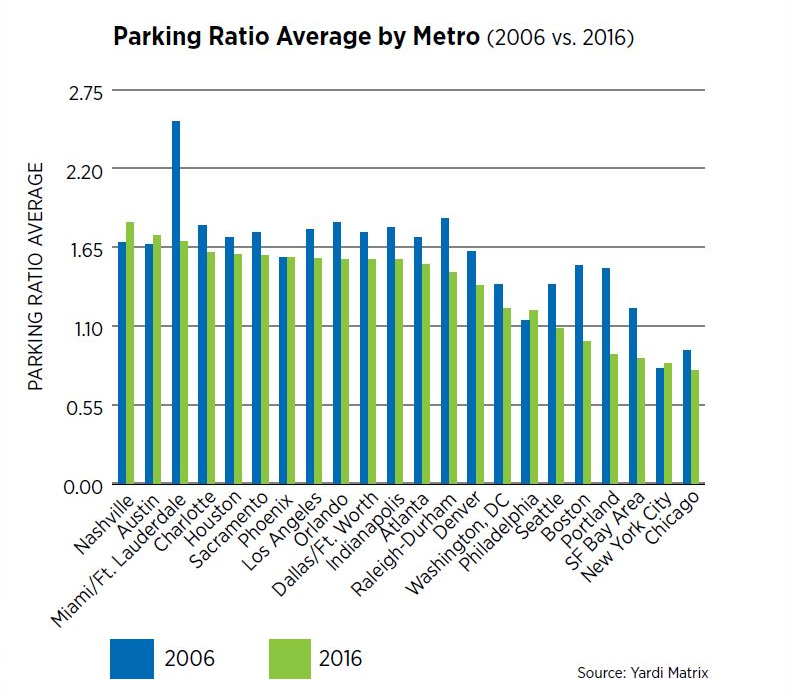 Differences in zoning regulations and existing density, as well as the age of buildings, also played important roles in this disparity. With the advent of ride-hailing as well as multiple modes of transportation options, the differences among regions will begin to wane. In fact, most metro areas across the U.S. experienced a decrease in ratios from 2006 to 2016, although a handful of markets like Nashville, Philadelphia, Austin and New York City saw slight increases.
The steepest decrease in the average ratio occurred in the Miami and Ft. Lauderdale markets, falling from 2.53, the highest of any major market in 2006, to 1.69 in 2016. This is mainly a result of the city eliminating minimum parking requirements, first for its downtown district in 2010 and then for developments outside of downtown comprising less than 10,000 square feet in 2015. The Portland market experienced the second largest decrease, with its average ratio falling from 1.50 to 0.90. With the city council having eliminated minimum parking requirements in 2017 for developments located near frequent transit and containing affordable units, further declines can be expected for the area's average ratio.
An increasing number of cities have begun to reduce and even eliminate parking requirements for development. The chart below illustrates just a sample of the more recent changes to zoning codes in various municipalities across the country. In addition, cities such as Boston and Nashville are already building parking structures that can easily be converted to other uses."
Sources: National Apartment Association-Parking Requirements in Rental Housing
Parking Requirements for Rental Housing Less than a Hotel
Majority of units consist of studios or one bedrooms

Number of average residents with vehicles nationally is approximately 35%

Number of employees for rental housing is less than required for hotel operation

Expect a large number of senior residents in which Tapestry can coordinate services and transportation
Property Assessed Clean Energy (PACE) and Energize Connecticut
Subject to establishment of a local PACE Program, Connecticut allows municipalities to establish PACE funding programs to finance conservation and clean energy improvements for private property owners. If the PACE program is authorized, the renovated building will include numerous energy efficiency features.
PACE programs enable property owners to avoid high upfront costs related to installing clean energy technology, such as solar panels, or energy-saving retrofits. A local government will generally implement a state-authorized pace program by designating an improvement district and issuing a bond secured by the real property within the district to raise capital. Property owners within the designated improvement district can choose to opt-in to a pace financing program, but they are not required to do so. The PACE financing program enables access to low interest, long-term loans. Property owners may also see reduced energy bills. PACE programs allow property owners to pay for these improvements over time through assessments on their property tax bills. Once a property owner opts into a PACE financing program, the property remains subject to the PACE arrangement even if it is sold. Check out the Energize Connecticut Website.
Community Impact: Adaptive Reuse is an Economic Development Catalyst
Nationally, many hotels are in distressed condition with low occupancy rates. The adaptive reuse of the existing hotel is positive for the community.
Property tax increase as a rental development

Significant improvements utilizing many local workers

Stabilized rental population

Property improvements creating longer-term asset

Adaptive reuse represents an opportunity to create private pay affordability
Demand for Rental Housing
Tapestry has retained Jones, Lang, LaSalle (JLL), a nationally recognized expert in rental housing to conduct a third-party feasibility study. Based on data from CoStar, there are 17 rental properties within the Primary Market Area. Average occupancy is approximately 96%, which indicates a need for additional rental housing.